Brachychiton acerifolius
by Dakota Feirer
habitNotes
'A red flowering Kurrajong. Sergeant Clark writes:
- seeds from this tree have been sown on many occasions but
…there from invariably produces a white flower.'
recordedBy
Bloodstained pages frame
rules of
an imperial game
embroidered
emboldened
embellished
executioners, knighted by
'ologists
precious appellatives
family
Each stroke
of ink
on paper
equals
imperial
salutation
deepening
scars
on sacred land and paperbarks.
habitat
Though true
depth is absent
from inkpot.
Buoying
a royal
crown
above the deepest
ocean
of stories.
genus
Deified
authorities
waltzing matilda
through their
curated gardens
of stolen knowledge
falsehoods
dancing above
a terra nullius.
scientificName
Botany has
both raped and erased
your flame
stifled
your
beauty
POISON
marks
your name now.
specificEpithet
Under the guise
of a blind Latin
tongue
seeds and leaves
crushed between leather
of boot and journal
now mere shadows
pressed
across spreadsheet.
notes
songlines are no less dismembered beyond these cells
roots thread deeper than introduced infrastructure
when belly holds water and hands bleed rivers
holding memory and babies. women's business tree.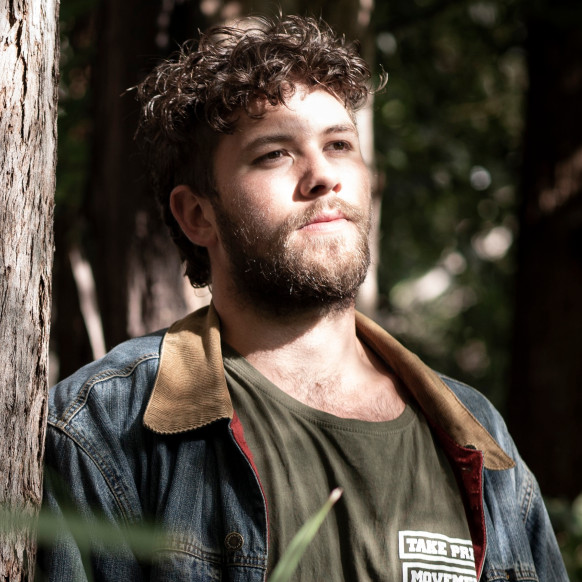 Dakota Feirer
Dakota is a Bundjalung and Gumbaynggirr man based on Jagera and Turrbal lands. He is an educator, a researcher and interdisciplinary storyteller. His work consists of poems, installations and reflections that engage with Country, culture, spirit and healing. Dakota believes in healing Country and our communities through art and storytelling.